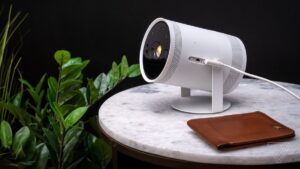 Samsung Electronics East Africa has officially begun taking pre-orders for the highly anticipated  Freestyle, the world's first, smallest and portable smart projector. 
The projector comes with a number of features and innovations that, among other things, will allow users to enjoy a cinema-quality viewing experience, and little manual set-up and operations.
The Freestyle projector is so versatile and high-tech that it incorporates a smart speaker and an ambient lighting device l rolled into one lightweight, portable device of 700 grams.  It allows  users to change any space into a screen with ease and  unlike conventional, boxy projectors, The Freestyle's versatility  allows rotation of up to 180 degrees, enabling users to show high-quality video anywhere, including tables, floors, walls or even ceilings with no separate screen required.
The Samsung projector will retail at 139,995 Kenya Shillings. Those making the pre-order  will be required to make a down-payment of 10 % of the total amount. The pre-order period will run from 4th April to 30th April and will be available at all Samsung dealer stores nationwide.
The Freestyle projector was launched during the annual  Consumer Electronics Show (CES) conference, the largest yearly tech convention in the world that took place in January this year. Since then the Freestyle has received very high reviews and praises from global tech enthusiasts.
Commenting  on the innovation, the head of consumer electronics at Samsung, Sam Odhiambo said that everyone needs the device to enjoy life to the maximum.
"The Freestyle is for the person seeking a fun new way to consume their content without the limitation of one location. It's for the person who is seeking a new adventure and would like to take their content with them, it's for the mother looking to create experiences for her young ones, it's for the unconventional host who is looking to create experiences for their guests. What I mean to say is that the Samsung Freestyle has a role to play in everyone's life. It's the unconventional device that we all need to live life the Freestyle way," he said.
 The Freestyle comes with full auto keystone and auto focusing features, enabled by industry-leading technology. The features allow the device to automatically adjust its screen to any surface at any angle, providing a perfectly proportional image every time. 
Further, the auto focus feature allows the Freestyle to display a crystal-clear image on any surface, at any angle, up to 100 inches in size. It also comes with a dual passive radiator enabling a clean and deeper bass without distortion, and its 360-degree sound radiation allows customers to enjoy a cinema-quality sound experience no matter where they are.
The projector offers smart TV features available on Samsung smart TVs, with built-in streaming services and mirroring and casting features compatible with both Android and iOS mobile devices. 
It is the industry's first portable projector that is certified by the  over-the-top media service,  a media service offered directly to viewers via the Internet. It is also the first projector to include far-field voice control, allowing users to choose their favorite voice assistants when using the device hands-free.
"The Samsung Freestyle is the first device under the new Samsung Device Experience Department. We are developing electronics that bridge between the conventional electronics and mobile devices in our portfolio in order to create more versatile technology for our customers" added Mr. Sam Odhiambo.