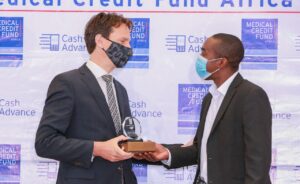 Medical Credit Fund and M-tiba have  announced the 500th healthcare provider that received a cash advance loan, with a total value of Khs.7 Billion.
The objective of the loans is to increase   medical capacity and create overall accessibility to healthcare for the 50 million Kenyans. Since 2017, Medical Credit Fund has provided 4,400 cash advance loans to Kenyan health businesses. To get the loans, health entrepreneurs only need a mobile money account.  The application process is  done on mobile and loans are disbursed within a few days.
Health businesses can access cash advances via the M-tiba platform and receive unsecured loans of up to Ksh.40 million to scale and improve services and business operations.
Medical providers who struggle with working capital shortages, limitations to accessing sufficient traditional and affordable financing, among other things  now have access to these flexible loans, with no collateral required. 
M-tiba Managing Director  Mr Moses Kuria said the health entrepreneurs can apply for the loans based on their Mpesa statements.
"We see a huge gap as many healthcare providers cannot access loans from traditional institutions due to lack of sufficient collateral or other requirements. However, they can now apply for loans based on their M-pesa till number statements," Kuria said.
The overall goal of the Kenya Health policy 2014-2030 is to attain the highest standard of health in a manner responsive to the needs of the Kenya population. Through Cash advances various healthcare providers are helping the nation get a step closer to this goal as more facilities have benefited from access to increased bed capabilities, newer and more advanced machinery, better and more efficient diagnosis and treatment processes.
Speaking during the announcement, Kennedy Okongo, Medical Credit Fund Country Director Kenya, expressed his joy on the positive impact the product has had on the healthcare space. 
'Increasing investments into the health sector brings us closer to the goal of access to quality care for all Kenyans". 
The loans are provided by the Medical Credit Fund (MCF). MCF was established in 2009 by PharmAccess Group as part of its approach to strengthen African health systems and connect more people to better healthcare.