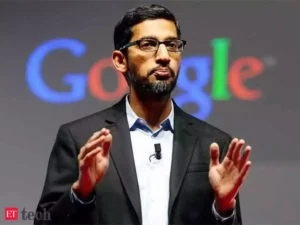 Sundar Pichai, the Indian-American tech guru and chief of Google and Alphabet was born in June 1972 in Chennai, the capital city of the Indian state of Tamil Nadu. If success was to be measured by career growth and spearheading the growth of an institution, then Pichai has lived his life well and ticked the boxes of climbing the success rungs.
The career metals engineer abandoned the line of his university studies and swung right into the centre of the technology conglomerate, a decision he will doubtless not regret. That was a Midas touch kind of decision.
His mother, Lakshmi, was a specialist in transcription and dictation.  His father, Regunatha Pichai, was an electrical engineer at General Electric Company, the industrial  British partnership which manufactured and supplied military equipment.
His father also had a manufacturing plant that produced electrical components, but even that didn't influence him to practise his university degree in metallurgy in his father's firm.
Pichai went to the Indian Institute of Technology Kharagpur, whence he graduated with a  degree in metallurgical engineering. His name is emblazoned in the university's distinguished alumni, a clear testament to his excellence in his alma mater.
He proceeded to Stanford University, where he earned an M.S.  in materials science and engineering. In addition, he got an MBA from the Wharton School of the University of Pennsylvania.
Upon completion of his studies, Pichai started his career as a materials engineer. He had a short stint at the management consulting firm McKinsey and Company before leaving to join Google in 2004 as a product manager. 
That would be the turning point in his life, first, and the world, second, and particularly in the world of technological advancement. The father of two has seen momentous significant innovation at Google, inventions that have by and large shaped contemporary lives across the globe, and which will accelerate the fourth industrial revolution from the Americas through Africa.
As the new Google product manager, shortly after taking over leadership, Pichai led the product management and creation efforts for  Google's client software products, including Google Chrome and Chrome OS. He was also instrumental in the invention of Google Drive.
Google Chrome, the cross-platform web browser, would be released to the market four years later, in 2008 for Microsoft Windows. It was later ported to Linux, macOS, iOS, and Android, where it is the default browser.
The browser went on to take the world of internet surfing by a storm like no other. It roped in millions of internet users and took the lead as the most preferred web browser. 
In October 2021, StatCounter– a web traffic analysis website, estimated  Chrome to be commanding  68% of the global browser market share.  Three years before, in November 2018, Chrome had hit  72.38%, its highest peak so far. 
Details from StatCounter indicated then that Chrome had 68% usage on personal computers; was the most used browser on tablets and was also most preferred on smartphones, and had a total 65% share across all platforms combined.
Following the browser's success, Google expanded the "Chrome" brand name to other products including Chrome OS, Chromecast, Chromebook, Chromebit, Chromebox, and Chromebase, in a bid to expand its customer base and thus replicate the browser's great triumph.
Meanwhile, Google Drive, a file storage and synchronization service would be launched in 2012, four years after Chrome's takeoff.
Drive, the key component of Google Workspace, allows users to store files on Google's servers in the cloud, synchronize files across devices, and share them.
The service came under immense pressure from various quarters, particularly the media, due to its one set of Terms of Service and Privacy Policy agreements that cover all of its services. The critics were against this provision because the policy agreements grant Google vast rights to reproduce, use, and create secondary works from content stored on Google Drive.
Nonetheless, Google Drive weathered the storm and when the dust had settled and the sky had become blue, it attracted users from far and wide, and they did embrace it– in millions. 
According to Google, as of July 2018, Google Drive had crossed the one billion active users mark. Three years earlier, in September 2015, it had had over one million organizational paying users, and over two trillion files stored on the service.
The product has a web interface and offers apps with offline capabilities for Windows and macOS computers, and Android and iOS smartphones and tablets. 
Pichai was also responsible for the creation of Google Maps, another Google key product that has revolutionised world travel and movement.  Launched in February 2005, Google Maps is a web mapping platform and consumer application that offers satellite imagery, aerial photography and street maps. Furthermore, the service delivers real-time traffic conditions and route planning for travelling by foot, car, train, bike, air and public transportation.
In May 2017, Google said Google Maps had gotten over 2 billion users on Android. As of 2020, the service was being used by over 1 billion people every month around the world.
In 2012, the Google rising star executive became the senior vice president of Android and Chrome apps. He replaced Dave Girouard, who quit to start his company, Upstart, an AI lending platform.
In 2013, the Google CEO started Android One,  a project targeted at the Indian market for low-tier devices. Before the birth of Android One, it always took at least a year before the latest Android update arrived on non-Google devices. Security and system updates were handled by Google for the first set of Android One devices. The Android One project proved a great success as it boosted Google's Android users from 230 million to a billion. 
It is said that the 50-year-old executive was offered the CEO position by Microsoft and Twitter companies, which he turned down. 
In 2015, the US' Business Insider quoted a person close to Twitter as saying: "I've been hearing that (the speculation) too and I wouldn't be shocked if they want him as CEO. They tried to hire him once about three years ago and got very close. Google countered with a huge package to keep him there. I can't imagine him making the change after being named CEO of Google today."
Around that time, Pichai was appointed to become the next CEO of Google. It is believed that Pichai's  August 10th 2015 appointment was the counter action by Google to retain him from leaving to Twitter, which was courting him then, it is believed. 
On October 24, 2015, he took over the reins as the new Chief Executive Officer of Google. Pichai's new position came with a salary increase. He drew an annual salary of $652,500.
Larry Page, the immediate former Google overall CEO became the chief executive of Alphabet, the then newly created parent company of Google.
The following year Alphabet Inc. awarded Pichai a staggering $199 million in stock awards, and his income soared to be the highest ever for any Alphabet executive back then. Unconfirmed reports indicate that Pichai earned nearly $1.9 million in 2018, his security and personal use of aircraft inclusive.
Assuming the Google CEO position did not wane Pichai's drive for success and growth. Instead, he sought to conquer new frontiers and establish Google's new footprint. Thus, he led the development of Tez, a payments app in India. Tez was later renamed Google Pay. It was launched on September 18th 2017.
Google Pay powers in-app, online, and in-person contactless purchases on mobile devices, enabling users to make payments with Android phones, tablets, or watches. It is currently available in 42 countries worldwide.
In December 2019, Pichai, then 47, was thrust into the leadership of Alphabet, the umbrella under which Google is. 
Larry Page, the then Alphabet CEO said Alphabet and Google did not longer need two CEOs and a President. 
"Going forward, Sundar will be the CEO of both Google and Alphabet," Page said.
Pichai received the news of his new position warmly, terming it a "strong foundation on which we will continue to build".
India, Puchai's mother country, in January this year,  awarded him with the Padma Bhushan award, as a standing ovation kind of treatment for her son, whose impact has no doubt touched hearts and lives. He was feted alongside Microsoft CEO Satya Nadella and culinary connoisseur, Madhur Jaffrey.
The Padma Bhushan is the third-highest civilian award in the Republic of India. The Bharat Ratna and the Padma Vibhushan are the second and first civilian awards in India. The award is given for "distinguished service of a high order regardless of race, occupation, position or sex.
"I am deeply grateful to the Padma Awards Committee, the President and Prime Minister, as well as the people of India for this honour. It's made all the more meaningful to be among this esteemed group of individuals who have each had a profound impact on their fields and communities, and I am humbled to receive this award alongside them," Pichai said in a statement.