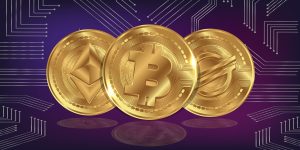 Bitcoin (BTC) is set to crack $80,000 and hit a new all-time high this year, according to Finder.com's latest Bitcoin Price Predictions report.
Finder's panel of 35 fintech and cryptocurrency specialists believe that BTC will peak at $81,680 on average in 2022 before dropping to $65,185 by the end of the year. 
Morpher CEO, Martin Fröhler, gave one of the most bullish end-of-2022 forecasts and says "political uncertainty, inflation, and an ever increasing desire to own non-government controlled assets will propel Bitcoin to new all-time highs."
On the other hand, CoinJar CEO Asher Tan gives a more conservative prediction. Tan predicts BTC will peak at $60,000 before dropping slightly to $56,000 by the end of the year.
"There's still plenty of uncertainty about the short-term Bitcoin outlook. Given the macroeconomic headwinds, it would not surprise me to see Bitcoin spend the whole year bouncing around between US$30-60k."
Although the panel's average forecast for the end-of-2022 is significantly higher than the price of BTC at the time of writing, it is 15% lower than the January prediction of $76,360.
Bitcoin's lack of use cases beyond being a store of value may factor into why the panel is becoming less bullish on Bitcoin.
In fact, half  of Finder's panel, including Thomson Reuters technologist and futurist, Joseph Raczynski, believe that BTC will eventually be overtaken by a more advanced blockchain in terms of being the most popular cryptocurrency. 
According to Raczynski, this is likely to be Ethereum.
"It can serve as money, but has created a platform to tokenize all assets and create a massive platform of the internet of value. This is far grander than BTC potentially."
Longer-term forecasts for BTC have also been on the downtrend since October 2021. By 2025, the panel predicts BTC will be worth $179,280, which is a 13% drop from the panel's October prediction of $206,351, and a 7% drop from the January forecast of $192,800
The panel's price predictions for 2030 have also dropped since October. The panel now expects BTC will be worth $420,240 by the end of 2030, which is roughly 25% lower than their October forecast of $567,472. 
University of Canberra senior lecturer John Hawkins is one of the most bearish on BTC's future, predicting the coin will be worth just $5,000 and $100 by the end of 2025 and 2030 respectively as it loses out to Ethereum.