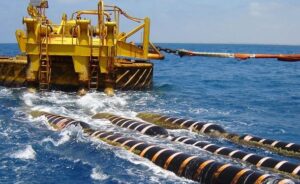 Giant tech firms from Silicon Valley have conventionally focused on the US and other developed countries,  where they reap a greater chunk of their profits. 
However,  in the recent past, they are increasingly expanding their frontiers to Africa, too. For example, Amazon is already building a Prime Video team to develop original Nigerian films and Microsoft has established a multimillion-dollar office for its African engineering teams in Kenya and Nigeria.
Still greatest of these all thus far could be the subsea internet cable projects by Meta, and Google companies. The submarine cable which enters from Portugal has reached  Togo and Nigeria and will head to St Helena, Namibia, and South Africa. It's anticipated to be fully settled and operational before the year closes.
Juliet Ehimuan, Google's director for West Africa, who has been at the forefront of the process of laying the company's 'Equiano' internet cable in Africa, recently explained what Google expects to get out of the project. 
Ehimuan said the company needed a landing partner in each country to land the cable. For instance, in  Togo, CSquared Woezon partnered with Google to implement the landing. Elsewhere in Nigeria, it was the West Indian Ocean Cable Company (WIOCC) that came in handy to enable this. For all the countries that the cable will pass, Ehimuan explained, Google shall partner with on-location companies for easy and faster landing.
The cable is aimed at providing additional capacity to fuel internet growth and support future demand in Africa. Google is anticipating an increase in its products' demands and hopes to leverage the cable to gather more momentum.
Initial research by Google showed that the subsea cable project can boost internet speeds by six times and reduce retail prices for consumer internet data by over 20%.
Ehimuan illustrated the objectives of Google, which she said are the same for every country in Africa, but whose order of magnitude is different,  based on the size of a country's population. To win the African countries' favour, the tech giant is planning to showcase the benefit to the overall economy and how it aligns with their agenda.
Already in Togo, the minister for communications and digital transformation, Cina Lawson, and the president have seen  Equiano as an integral part of fueling their mission around digital transformation and growth. Nigeria too is geared toward the cable, as it hopes that Equiano will augment its digital strategy.
A few years ago, Ehimuan explained,  Google was part of the broadband committee that created Nigeria's broadband plan. There have been different iterations of that since, but it clearly laid out some of the challenges impacting the roll-out of infrastructure and the last mile:the high cost of right-of-way, double taxation from federal and state governments, and cable cuts.
To address the latter,  Lagos is digging up and creating cable ducts. Cables get damaged during events like road construction, and the cost of fixing the cables is high. Ducts create a more structured and safe way to lay cables.
The subsea cable is part of Google's bigger plan of getting more customers, although the infrastructure will help other businesses as well, as a ripple effect.
"Our products and services are digital. For people to access them, they need connectivity. However, our internal philosophy is to focus on the customer and everything else will follow," she said.
She further said that in light of this fact and policy, in the last decade, the firm has been engaging with various pillars that can help accelerate digital adoption.
That includes infrastructure projects like Equiano, though Google is also partnering with original equipment manufacturers (OEMs) and telcos to bring down the costs of devices and data bundles to ensure a virile digital community.
Google said it has a special interest in West Africa, and more particularly Nigeria due to its presumed great talent, potential and opportunity. 
"And that this is a place you can do business. It's not a charity case where we feel sorry for the people. We want to do business in a responsible way to make lives better," she said.
In the last decade that Google has been in Nigeria, Ehimuan explained, it has established Google Maps for traffic information, and it's accurate for the most part. 
"That's a huge investment, but we don't necessarily shout it out, as long as it works. We've had all kinds of initiatives including training, startup grants and non-profit support," the director said.
Google Developer Groups on college campuses is one of the firm's strategies to penetrate and open up Africa.
"Investing in training developers early is important; we are stimulating the appetite among young people for embracing technology and creating opportunities," she said.
Even with the entry of the subsea cable in Africa, Google has said it will collaborate with other internet service providers in Africa to achieve more success. Interestingly, the Google cable has 20 times more capacity than previous cables. 
The intention with Equiano is to be able to partner with internet service providers to transmit the added bandwidth and make it available to users.
Ehimuan expressed confidence in the cable going live this year. To achieve that, Google has put in place strategic plans to shore off any possible impediments.
"The cable is on track to go live before the end of this year. A lot of work has gone into making sure we meet this timeline. I am 100% confident that it will go live."
While Google is moving to execute this, it is also keen to see the final consumer of the cable reap benefits as soon as possible. The tech giant is currently working on various partnerships across the continent to build the capacity of the end user of the subsea cable. WIOCC announced a deal with Phase 3 telecom (a network transmission company) on the day Google announced the cable landing in Nigeria.